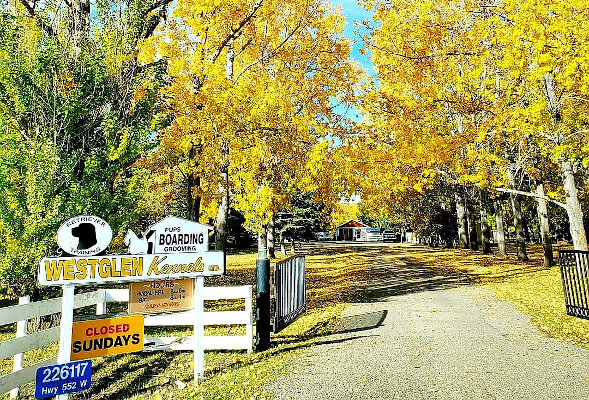 Services & Rates
Kennel Services & Rates
Nightly rate is
$37 per night per dog
(plus GST)
Small dogs (under 30 lbs or 13 Kg)
$39 per night per dog
(plus GST)
Medium to Large dogs (30-60 lbs or 13-27 Kg)
$42 per night per dog
(plus GST)
Extra-large dogs (over 60 lbs or 27 Kg)
$16 per night per cat
(plus GST)
Cats
Discount for Multiple Dogs
The following discounts are given for 2 dogs sharing a kennel from the same family:
10% Discount
Over one (1) week stay
15% Discount
Over two (2) weeks stay
20% Discount
Over one (1) month stay & FREE bath (require half payment)
Long Stay Discount
10% Discount
Over one (1) week stay
15% Discount
Over two (2) weeks stay
20% Discount
Over one (1) month stay & FREE bath (require half payment)
Dog Day Care
Available during business hours Monday to Friday from 8am to 6pm and Saturday from 9am to 4pm. Closed on Sunday.
$25
All Dogs
Additional Services
$2 per day
Medication
$3 per day
Kennel Supplied Food
$10 per 20 mins/day
Extra Exercise
Discounts cannot be combined.
Opening Hours
Our pick up and drop off times have been specifically selected to allow us to care for your pet. We have scheduled times set aside for cleaning, exercise and feeding. We live on the property, so we need to maintain set windows of time for our clients. We appreciate your respect of this!
PICK UP on Sundays and Holidays will be $35 per family and available between 9:00 am to 10:00 am.
We are CLOSED for DROP OFF Sundays and Holidays.
Drop Off Times
8:00am - 6:00 pm by appointment only please
(403) 256-0806
.
You are charged for the day/night of arrival.
Pick Up Times
By 11:00 am. Any time after will incur an
Extra Day charge
.
Please call prior to pick-up
(403) 256-0806
.
If an out of hours drop off or pick up needs to be arranged, there will be a $35 charge.
Your Pets Love Our Services
Exercise and Play Time
All Dogs are exercised and play in our large fenced play areas several times per day. Extra exercise times available upon request $10 per 20 minutes/day.
Complete Daily Health Care
Daily nose to toes wellness inspection, with plenty of individual cuddles and TLC.
Meals and Snacks
1-2 meals a day with snacks in-between. Special meal preparation (i.e. raw food, heated or frozen foods)
Personal Living Area
Individual indoor / outdoor suite with all the bedding needs. All suites have attached outdoor runs with 24/7 access (weather permitting).
Personalized Compassionate Individual Care
We offer daily brushing maintanance for relaxation. Fun and games in the romping corrals with their pet care giver for mind and body stimulation
We also offer nail clipping ($20), bath/shampoo with brushing on 24 hour notice:
Small to medium dog shampoo & brushing ($40)
Large dog shampoo & brushing ($70)
We Require You to Bring
Food and Dog Treats – Include your dog's name and quantities clearly labelled for AM/PM feeding!
(Just enough for their stay plus an extra 2 days worth in case of travel delays)
If on a Raw Diet, please portion feedings INDIVIDUALLY into Ziplock freezer bags!
Dog Bed (Med Size) or Blanket (your choice, but not guaranteed to come back in the same condition)
Toy (if desired, but not guaranteed to come back in the same condition)
Medication – if required, instructions clearly labelled
NO food or water bowls please. We have stainless steel bowls for all dogs.
Biscuit treats are supplied but you can also bring your own.
Payment
We accept Visa, Interac and Cash (5% discount, boarding only).
We like to leave the choice of how to pay to you, but if after two invoice reminders are sent, the credit card on file will be charged as we are a small business and cash flow is vital for our continued operation. Thanks for your understanding!
Deposit
A 25% deposit is required on all long stay reservations and is non-refundable without 7 days notice of cancellation. We accept one night stay to accommodate your special needs for parties, or other celebrations
We accept email transfer payments sent to westglenkennelsltd@gmail.com. Alternatively, you can call us at (403) 256-0806 to provide us with your credit card number. This will hold the kennel reservation.
Please refer to the Rates section above for information on holiday rates and minimums.
Vaccines
We require all dogs to have vaccines administered a minimum prior to boarding!
Distemper
Parvo
Rabies
Bordetella (Kennel Cough)
If in doubt please discuss this with us. You must bring proof of vaccinations when you arrive. This is for the safety and well being of all dogs boarded. In lieu of vaccinations, we will accept titre testing.
Facebook
Visit us on our Facebook page facebook.com/Westglenkennels today.
Photos and videos will be posted to our Facebook page so you can keep track of your dogs' vacation while you are on yours! Remember to  us!
Meet 'n' Greets
As we are a private acreage, we welcome meet 'n' greets during business hours by appointment only, excluding Sundays.
Check out the Directions page for our address and a map to find us today.